more than 10 years operating history
service 5,000+ brand enterprises
1,000w+ members
30+ industries
Provide comprehensive, professional and precise high-tech industry services.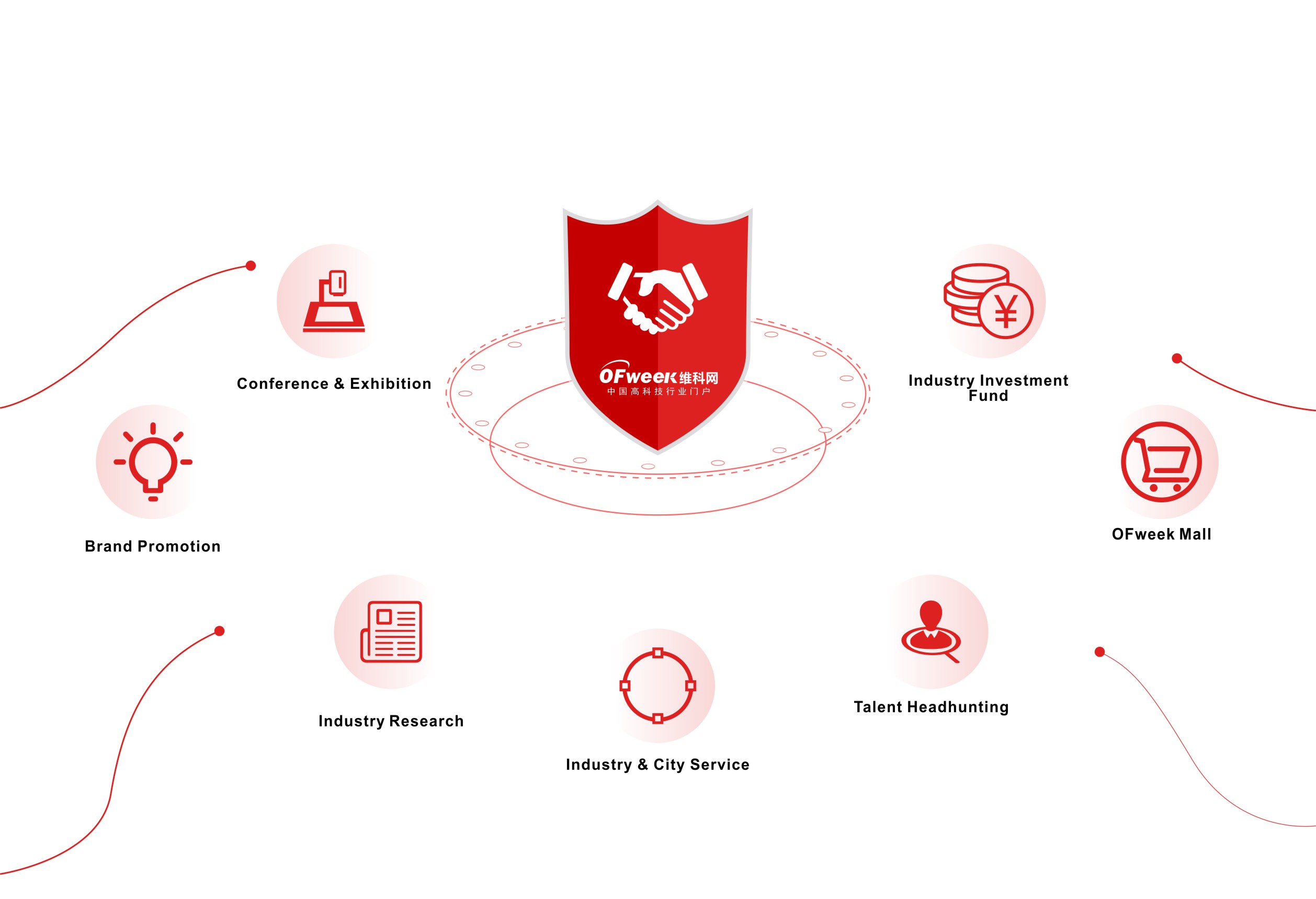 Brand Promotion Service
Advertising and Data Services
-- OFweek provides comprehensive, professional and precise high-tech industry services
By continuously working hard in the high-tech industry, OFweek traffic doubles rapidly every year and now its Alexa ranking is within 10,000 globally, and within 1,000 in China. With high level popularity and reputation in the high-tech fields, OFweek provides authentic data and clicks, and promotes the popularity and influence of customer brands.
As an original information portal with a history of more than 10 years in China's high-tech industry, OFweek now has more than 10 million members. It launches a variety of online or offline activities every year, and attends various fairs and seminars. With a first-class membership database of the high-tech industry, OFweek can provide accurate data marketing services such as EDM, knowledge survey, product trial, online conference, online showroom, technical files download, industry research and etc.
Content Services
OFweek's information covers a wide range of high-tech fields, including electronic engineering, LED, display, solar PV, laser, optical communication, IoT, cloud computing, intelligent hardware, smart home, wearable VR, security, li-ion battery, new energy vehicle, automobile, instrument, sensor, 3D printing, industrial control, robot, AI, medical, energy conservation and environmental protection, smart grid, wind power, etc.
OFweek provides millions of users with abundant valuable original articles and picture news every day. With timely and swift update, it has become a leading online service platform with deep influence in Chinese high-tech industry. It has been the leading source for search engine industry information, delivering high-tech industry news for domestic and foreign media.
wenku.ofweek.com is a professional reading and download center for product technical white paper, professional training courses and various solutions. The materials are collected by OFweek editors or contributed by professional members. It features extensive content coverage, high update frequency, and fast download speed, professional and comprehensive materials. It includes product manuals, tutorials, product selection manuals, technical standards, project cases, software, and drawings, etc.
OFweek spreads timely and accurate hi-tech industry information to users through PC, mobile network, and APP as well as major social media and web sites, and is becoming the preferred information source and functional platform for high-tech industry users.

PR Service
OFweek has an editorial team of more than 100 editors with professional industry background and strong capabilities of keen insight, able to provide accurate and in-depth information for our highly professional users. Moreover, the team conducts direct interview and produce featured reports for ensuring the news quality and timeliness. OFweek is the leading source for search engine industry information, delivers high-tech industry news for major domestic and foreign media. It has established cooperative partnership with major media and industry portal webs, offering industry well-known enterprises with comprehensive, accurate and professional PR service.
OFweek APP Service
OFweek APP is a mobile information service platform dedicated for high-tech industrial users, providing high-tech industry news, new products, advanced technologies, market trends, enterprise finance as well as industry events and other information timely, comprehensively and objectively. Personalized customization service can offer you the very first hand high-tech industry information anytime, anywhere.
For more information, please refer to app.ofweek.com
OFweek Public Platform
OFweek Public Platform is a new we-media platform built by OFweek-China's high-tech industry portal. It is the first platform in China that focuses on release and distribution of high-tech industry information. OFweek public accounts are free to apply for individuals, enterprises and other organizations in the industry. OFweek's strong three-terminal resources, promotion and high-quality content can really help the enterprise enhance industry influence.
For more information, please refer to mp.ofweek.com
Live Broadcast Service
OFweek live broadcast service is an innovative media service based on the high-tech industry field. It delivers HD videos captured at the scene to all kinds of internet terminals in a real-time and efficient manner through advanced cloud technology and communication technology, realizes the seamless connection between the activity site and users'audio-visual experience, completely breaks the geographical limitations, and spreads seminars as well as exhibitions to the high-tech industry audiences through the global network. It is another best choice for enterprises to explore market, promote brand and present concept in the new era.
For more information, please refer to live.ofweek.com
Online Webinar Service
By real-time information transformation and breaking time and space restriction, OFweek webinar simulates reality conference application system all-around. Compelling online conference provides information to a lot of geographically dispersed audience; capturing attention of potential customers; helping engineering and decision-maker to easily understand your product and service so as to do publicity and reap more valuable online audience. What differs from offline conference is the demand playback can continue get professional audience and bring high-quality sales leads. Currently webinar has become the most popular marketing tools internationally and has been widely used by established enterprises with Fortune Global 500 included.
Webinar is flexible in organization form, which can be divided into webinar technology, technology training, product demonstration, etc. Currently nearly hundreds of companies opt to long-term use our webinar service.
For more information, please refer to webinar.ofweek.com
Online Exhibition Service
With years of conference experience and its strong member resources, social resources advantage, OFweek successfully built the online exhibition system combined with live broadcast, instant messaging and featured exhibition hall, opened a new mode of exhibition with its simple operation, fast and cheap promotion, efficient interaction, controllable effects!Based on ensuring the promotion effect, OFweek will further help enterprises and target audiences to realize long-distance zero-distance communication and save costs. After exhibition, exhibitors can also obtain a large amount of valuable target customer information, which will facilitate the sales lead tracking for enterprises. Simple but powerful form of exhibition, sit on the table while interconnected with the world! OFweek online exhibition services are getting more and more high-tech industry concerns with its comprehensive cost advantage. During the "Internet+" era, online exhibition is the future!
For more information, please refer to expo.ofweek.com
Conference & Exhibition Service
Conference Service -- Authority and prestige
OFweek industry conference is well-known within the high-tech industry. Based on its powerful resources and professional conference teams, OFweek holds a variety of off-line conferences including high-level annual meetings, forums, annual awards, investment and financing conferences, demand-and-supply meetings, career fairs and enterprise road shows of high-tech fields together with governmental organizations and international organizations, various industry associations and institutes, fairs and medias.
For more information, please refer to seminar.ofweek.com
Training Service
As a leading training platform of Chinese high-tech industry, peixun.ofweek.com professionally selects and assesses training resources. It also carefully chooses enterprise strategic plan, investment-finance, capital operation, talent stimulation, management, technology, marketing and many other courses.
Relying on OFweek's powerful database (more than 10 million registered members), a professional curriculum design and promotion team, and based on our strong teaching staff in high-tech fields we have accumulated over the years, we choose more than 1,000 experts from OFweek's long-term strategic consultant, top industry experts, industry analysts and other analysts as professional instructors, whici is best guarantee for OFweek training services. It can also help high-tech practitioners better master professional knowledge and improve professional skills.
For more information, please refer to peixun.ofweek.com
Exhibition Service
With OFweek's strong high-tech industry resources, relying on its professional exhibition team, OFweek organizes or undertakes various online and offline high-tech industry exhibitions jointly with government agencies and international organizations, associations of various trade associations, exhibitions and media. At the same time, it can also help various exhibition parties and business owners to organize meetings, do promotion and so on. It is the platform of choice for many enterprises to expand their market and promote their brands. It is also the one-stop business, technology and academic exchange platform for professional buyers looking for new suppliers, new products and understanding market opportunities.
For more information, please refer to exhibition.ofweek.com
Industry Research Service
Industry Research Service -- More Professional More Valuable
OFweek Industry Research Center---The biggest high-tech information and research & analysis service provider, focuses on high-tech fields such as Solar PV, Energy Storage, Smart Grid, Lithium Battery, New Energy Vehicle, Display, Intelligent Hardware, Smart Home, Electronics, Semiconductor, Optical Communication, Robot, Machine Vision, Industrial 4.0, 3D Printing, Laser and etc; and provides data information services of great strategic values for customers, which include industry custom reports, industry consulting, industry development white paper, business plan, feasibility report, IPO consulting, investment and financing consulting and other services.
For more information,please refer to research.ofweek.com
Talent Headhunting Service
OFweek Consultation
hr.ofweek.com
hr.ofweek.com offers online recruitment, advertising, campus recruitment and skill training services and provides the latest recruitment information in the high-tech fields, such as lighting, LED, solar PV, optical communication, laser, optics, display, electronics engineering, industrial control, smart grid, instrument and meter, sensor, energy saving and environmental protection, wind power, power supply, lithium battery, electric power, telecommunication, Internet of Things (IoT), robot, 3D printing, smart home, wearable device, new energy vehicle, etc.
With a database of 8 million high-tech talents, hr.ofweek.com is the most professional talent exchange center in the high-tech industry.
For more information, please refer to hr.ofweek.com
OFweek Industry & City Service
OFweek Industrial Park
OFweek Industrial Park Service can help high-tech enterprises choose the right industrial parks and apply for various preferential policies, as well as provide enterprises with all-round value-added services from online to offline. Through the platform, enterprises can directly connect more than 5,000 high-tech industrial parks across the country. The platform can also help every high-tech enterprise find the most suitable ideal industrial park and promote the rapid development of high-tech enterprises. For more information, please refer to park.ofweek.com
Industrial Park Assistant
Industrial Park Assistant is an Internet platform that specializes in providing industrial park property rental services for enterprises. Our services cover the whole country, and aims to provide professional solutions for industrial investment, provide considerate and efficient services for corporate investment and site selection, as well as contribute to the national industrial transformation and upgrading through our strong resources, rich industry resources, advanced "Internet+" philosophy as well as our leading big data technology in China. For more information, please refer to www.chanyuanbang.com
Talents
Includes high-tech fields such as Solar PV, Energy Storage, Smart Grid, Lithium Battery, New Energy Vehicle, Display, Intelligent Hardware, Smart Home, Electronics, Semiconductor, Optical Communication, Robot, Machine Vision, Industrial 4.0, 3D Printing, Laser and etc , focuses on industrial hot topics, apperceives market trends and provides data information services of great strategic values for customers.
Experienced expert consultants team, first-class analyst research and data processing team provide you with smart city, science and technology town, industrial park planning and development consulting, national high-tech industrial policies, project cooperation and investment & financing consulting, IPO consulting, investment project management consulting (Before, ongoing, and after investment), M&A of listed companies and market value management consulting, high-tech project accelerator service and industry development white paper, business plan as well as feasibility reports.
For more information,please refer to research.ofweek.com
Job Hunting
As a leading professional high-end talent recruitment website in China, Jobht is a professional high-end talent service (headhunting) information website, and the most professional job recruitment platform. Its business scope covers high-tech industry, internet/IT, education, and real estate, medical, automotive and other areas.
Jobht.com has 8 million professional talents, and a senior headhunting consultants' team with various successful cases.
For more information, please refer to www.jobht.com
Industry Fund Service
OFweek Industrial Fund business division serves the high-tech industrial funds, provides cooperative fundraising, issuing and management for the industrial funds of fund companies, listed companies as well as large investment organizations. Our professional service team provides industrial fund fundraising, road-show, industrial fund investment, M&A consulting, industrial fund management, industry research and consulting, industrial fund planning, high-quality project resources service, pre-investment, post-investment project management consulting with professional, comprehensive and multi-dimensional services, as well as provides a full range of solutions for the fundraising, issuing, investment, M&A as well as joint venture of the high-tech industrial funds. For more information, please refer to www.ofweek.com.finance/invest.html
OFweek Mall Service
OFweek Mall
OFweek MALL is a professional high-tech e-commerce platform, covering over 1 million products of more than 30 categories, including lighting, LED, photovoltaic solar energy, laser, optical communication, display, electronic engineering, industrial control, robotics, smart grid, instrumentation, sensor, energy saving, wind power, power, lithium battery, electricity, security, communications, IoT, 3D printing, smart home, wearable device, new energy vehicles, automotive, medical, etc..
OFweek MALL is committed to providing professional e-commerce services and high-quality products of good price for high-tech industry, thus making business much easier for both buyers and sellers.
For more information, please refer to mall.ofweek.com
Isweek -- Global Industrial Product Purchasing Platform
Isweek (www.isweek.com) is a procurement platform of global industrial high-tech products and provides users with valuable direct procurement service. All products are from the original manufacturers but not third parties, which means products are with high-quality and good price as well as effective technical support, quality assurance and after-sales service.
Bringing together high-quality industrial products from around the world, Isweek.com is committed to providing one-stop product sales and procurement service to the global high-tech product purchasers, suppliers, traders, and manufacturers.
For more information, please refer to www.isweek.com